Mingke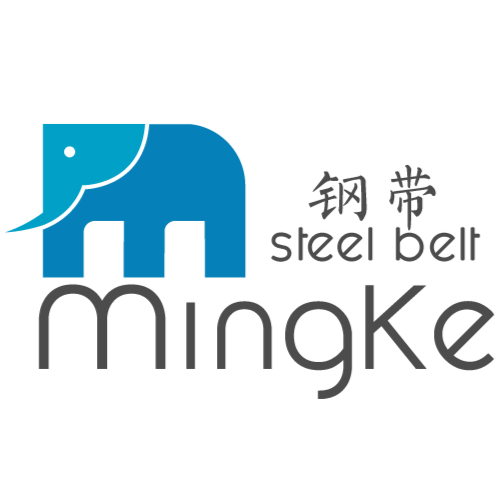 Mingke, founded in 2012, is a high-tech enterprise. We supply high strength steel belts and steel belt services for wood based panel continuous presses (double belt press, Mende press and single opening press).
Mingke steel belt consists of imported top quality steel material in combination with European belt technology and knowhow.
We have professional belt after-sales service system, located in nearly ten countries and regions around the world.
Our Products and Services:
Steel Belts
Model
Steel Type
Length
Width
Thickness
MT1650
tech_specs
Martensitic stainless steel belt
≤150 meters/piece
1400~3100 mm
2.3/2.7/3.0/3.5mm
MT1500
tech_specs
Martensitic stainless steel belt
2.3/2.7/3.0/3.5mm
CT1300
tech_specs
Hardened and tempered carbon steel
1.2/1.4/1.5mm
DT1320
tech_specs
Dual phase carbon steel (alternative to CT1300)
1.2/1.4/1.5mm
On-site Steel Belt Services:
Disc Patching
Shot Peening
Cross Welding & Installation
Crack/dent/bump Repairing
…
Applications of Our Steel Belts
Steel Belt Model
Continuous Press Type
Wood-based-panel Type, typical
MT1650 / MT1500
Double Belt Press
Medium Density Fiberboard (MDF)
High Density Fiberboard (HDF)
Particle Board (PB), Chipboard
Oriented Structural Board (OSB)
Laminated Veneer Lumber (LVL)
…
Mende Press
Thin Medium Density Fiberboard (MDF)
…
CT1300 / DT1320
Single Opening Press
Particle Board (PB), Chipboard
…
Shanghai Office | Shanghai Mingke Process Systems Co.,Ltd.
Addres: Room 802, Building China Enterprise Joint, No. 399 Baixiu Rd., Nanqiao Town, Fengxian Dist., Shanghai 201499, China
Nanjing Factory | Nanjing Mingke Process Systems Co.,Ltd.
Add: No. 81 Shuanggao Rd., Gaochun Economic Development Zone, Nanjing City, Jiangsu Prov. 211316, China
Tel: +86 17301601676 | Fax: +86 21 3361 6576 | e-mail: sales@mingkebelt.com